Chassis Dyno Tunes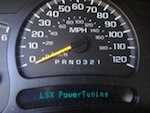 We are excited to announce our new Dynocom 7500 series chassis dyno is installed and up and running. It can support 220+mph, 2200+HP and 7500 ft lbs of torque. Using a load bearing dyno allows us to duplicate every driving condition from part throttle to wide open throttle without taking your vehicle out on a road. Along with horsepower and torque the dyno can log dual widebands, fuel pressure and boost psi. A dyno is a tuning tool that allows you to measure performance gains in a controlled environment. You will receive a print out showing your before and after horsepower and torque gains.
Our Address
205 Wildflower Rd
Brenham TX 77833Prices Start At:
$500 for NA vehicles stock or with bolt-ons,
$550 cammed or modified,
$600 for boost or power adders.
$600 for aftermarket ECU's
2017 Dyno Tune Pricing & Policies
$250 minimum charge for any dyno tuning, re-tunes on dyno, or if problems wont allow the tune to be finished

Vehicle must arrive with a full tank of the fuel that will be used. ( don't bring a car on low octane and want it tuned for high octane!)
The vehicle must be in safe and sound condition! (No bent rims and bald tires, NO LEAKS of any kind, drive train must be functioning properly)
Ignition system must be working properly. (Boosted and Nitrous applications should have colder heat range spark plugs, and several sets)
Must have exhaust free of leaks so we can get an accurate reading of the Air Fuel Ratio
Vehicles leaking fluids WILL NOT be dynoed!
A Dyno Tune WILL NOT fix mechanical issues!
A Dyno Tune is for tuning only, if you have mechanical or electrical issues its the customers responsible to get them fixed at their expense.
We have & tune with the following:
EFI Live, HP Tuners, SCT, Fast XFI, Holley, & Big Stuff 3
---