Welcome to LSX Power Tuning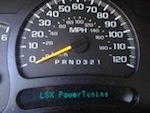 FORD, DODGE & GM TUNING!!
With today's computer controlled vehicles the only way to get maximum performance and better gas mileage is to tune/reprogram your computer. Tuning will unlock the full potential out of your stock vehicle or a must after doing any kind of modifications. We specialize in reprogramming late model ecm/pcm's. If you don't see a package or tuning option that fits you needs please give us a call to discuss your needs. We use the latest tuning and scanning software, EFI Live, HP Tuners, SCT, BS3, Fast XFI, and Holley to name just a few. We offer all kinds of tuning from Street tunes, Mail Order Tunes , Dyno Tunes, and Track Tunes. In the last ten years we have tuned everything from your bone stock car to 1,200+hp street cars, and all out racecars.




---