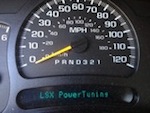 Welcome to LSX Power Tuning, your premier destination for GM and Holley EFI tuning! In today's world of computer-controlled vehicles, unlocking maximum performance and achieving better fuel efficiency requires expert tuning and reprogramming. That's where we come in. We specialize in reprogramming late-model ECM/PCM's, ensuring your vehicle reaches its full potential. Whether you're working with a stock vehicle or have made modifications, tuning is an absolute must.
At LSX Power Tuning, we pride ourselves on using cutting-edge tuning and scanning software like EFI Live, HP Tuners, and Holley, among others. This enables us to deliver exceptional results and cater to a wide range of tuning requirements. We offer a comprehensive selection of tuning options tailored to meet your specific needs. Choose from our street tunes, email tunes, remote tunes, mail order tunes, dyno tunes, or track tunes, depending on your preferences and convenience.
In addition to our expertise in tuning, we have cultivated a strong partnership with Holley over the years. As a Holley Certified Tuning and install facility, we not only provide top-notch tuning services for Holley EFI systems but also offer direct sales. You can count on us to deliver not only exceptional tuning but also the latest Holley products. Furthermore, we are proud dealers for hundreds of leading performance product brands, keeping a vast inventory in stock. This ensures that you have access to a wide range of options to enhance your vehicle's performance.
With over two decades of experience, we have fine-tuned everything from stock cars to powerful 2,000+hp LS street cars, race cars, twin-blown big block race boats, and even RVs. Our extensive expertise and attention to detail guarantee that your vehicle will receive the utmost care and precision tuning.
When you choose LSX Power Tuning, you're choosing a dedicated team of professionals who are passionate about maximizing your vehicle's performance. Contact us today to discuss your tuning needs, even if you don't see a package or option that perfectly fits your requirements. We're here to provide personalized solutions and ensure your satisfaction.





---