Welcome to LSX Power Tuning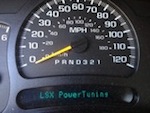 GM TUNING & HOLLEY EFI TUNING!!
With today's computer controlled vehicles the only way to get maximum performance and better gas mileage is to tune/reprogram your computer. Tuning will unlock the full potential out of your stock vehicle or a must after doing any kind of modifications. We specialize in reprogramming late model ecm/pcm's. If you don't see a package or tuning option that fits you needs please give us a call to discuss your needs. We use the latest tuning and scanning software, EFI Live, HP Tuners, and Holley to name just a few. We offer all kinds of tuning from Street tunes, Email, Tunes, Remote Tunes, Mail Order Tunes , Dyno Tunes, and Track Tunes. In the last twenty plus years we have tuned everything from stock cars to 2,000+hp LS street cars, race cars, twin blown big block race boats to RV's.

For years we have worked with Holley and used and supported their EFI systems. We not only tune Holley EFI systems but you can also purchase them directly from us. We are a Holley Certified Tuning and install facility. We are a dealer for hundreds of brands of performance products and keep many lines in stock.






---